17 June 2014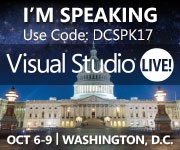 This is cool – Visual Studio Live! is coming to Washington D.C. this October.
This is the first time the conference has been in D.C. and I'm personally quite excited – not only by the chance to talk to a bunch of enthusiastic technologists from all over the world, but also because I'll be in D.C. and can take a little time to see some of the monuments and museums.
What a great opportunity!
You can save $400 off the 5 day all-access Best Value Conference Package by registering here with priority code DCSPK17.
As per my previous post, I'll also be speaking in Redmond this summer. So whether you attend in the summer on the west coast, or the fall on the east coast I look forward to seeing you!