01 August 2012
Check out the new logo graphics for CSLA 4 version 4.5!
Thank you to Sandra Fougerousse for creating these updated Windows 8 style logo graphics!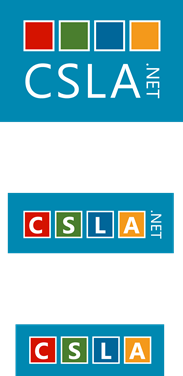 For those who are wondering, I expect to put a beta of version 4.5 online shortly after August 15 (when Windows 8 and Visual Studio 2012 final bits are available). That will start the beta cycle, with a planned release of version 4.5 around the end of October (if not sooner). I'm very exited to get CSLA .NET for WinRT into the hands of app developers!